About Us
Tubie Friends a non-profit group that is administered by two mothers whose children have feeding tubes and want to use their experience to make life easier for the thousands of children relying on feeding tubes for their nutrition. Tubie Friend Surgeons (TFS) are volunteers who care for or love tube feeders and donate their time and resources. Many of us are still in the trenches with you, which means that sometimes our kids have surgeries, procedures, tests, or hospital stays that takes our time away from Tubie Friends applications and processing. Our administrators monitor the e-mail account and websites.
Co-Founders
Our hope is that no family will go through this without the support of others who know what it is like and without the love of a Tubie Friend.
Our children's Tubie Friends have been a teaching tool for family, friends, school nurses and caregivers as well as something that has provided comfort for our children.  When our sons met for the first time, they instantly bonded and told "war" stories about all the medical interventions they have undergone.  It was an amazing thing to see our boys brag about their feeding tubes rather than feel isolated.  Unfortunately we live in different states, but when they are apart each has their own Tubie Friend to provide comfort and friendship. 
Cheryl
When we found out Brayden needed a feeding tube, I was blessed with friends who had already mastered the art of tube feeding. They encouraged us to create a Tubie Friend to help teach him what about the feeding tube so the process would not be as scary. He and his monkey "Sam" became instant friends. He immediately gave Sam medications and becoming an expert at connecting the extension prior to surgery. I believe it helped our entire family be more prepared for our new life as a tubie family. Unfortunately my son's Mitochondrial Disease has caused us to spend more and more time in the hospital.  Over the years Sam has continued to have many surgeries to change to a separate G and J tube, Cecostomy tube, PICC lines, a port, and finally double lumen Broviac for TPN in addition to his tube feeds.  Brayden is now 8 and still holds Sam tight anytime he is scared about a medical procedure.  I have a full time paying job in Human Resources and spend a lot of time taking care of my son's medical needs. However Tubie Friends provides a great distraction and helps me feel good that we can take what we are learning with my son's journey and help smooth the way for families that follow in our footsteps.
Shannon
     Tubie Friends is my habit, hobby & labor of love.  When I'm not working on Tubie Friends, I teach 6th grade students and invite them to join us in helping others.  I also serve on the board for the Seafair Pirate Charity Foundation as Director of Tubie Friends.
     My son, Caleb, is almost 7 years old and currently receives most of his nutrition through his GJ tube.  He was a toddler when he got his feeding tube and we had no connection to any kind of support group.  Our family helped where they could, but we had no one who could walk us through the process.  The idea to make his first Tubie Friend was more to help his older sister, who wanted to mother him and feed him, than it was to help Caleb.  Immediately after making a Tubie Friend for both kids, we were pleased to see that he finally began to accept tube feeding without the tears and battles and his sister was content to just feed her Tubie Friend.  
     Over the years, when he has changed to different types of tubes, we have made new Tubie Friends to familiarize him with what the new tube will look like before it is placed in his body.  We have also used it as a teaching tool for school nurses and caregivers as well as sharing it with the kids in his class to satisfy their curiosity. 


 

                       Caleb & Brayden



Tubie Friends Production Team
Ann

Brandis

Chandra

Cristin

Caroline

Heidi

Jeannie

Kirsten

Kerri

Leah

Nikki

Rod

Sheri

Shelley

Suzanne
And of course all our wonderful Tubie Friends Supporters that are helping us raise awareness and support for Tubie Friends.
Tubie Friends Sponsors
Kimberly-Clark MIC*/ MIC-KEY* Enteral Feeding Tubes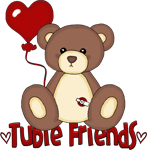 Our logo was lovingly created and donated by Mishara Armenia who was inspired by Nikki, mother to Kiley, her tubie hero.